B
alconies can be a great addition to a home: they can add extra light and ventilation to a room, provide some outside space and are a great way to take in the scenery. The right balcony can be a real selling point, increase value and make your home more attractive to prospective buyers. They need to be carefully designed to avoid any pitfalls: Security risk: making access to upper levels easier for anyone intent on breaking in, especially if the balcony is within easy reach of a wall or fence that can be climbed on. Neighbour disputes: if there are concerns over privacy/overlooking. If you are thinking of adding a balcony, always seek good planning advice from a design professional like an architect or planner. The creation of a balcony is generally not classed as permitted development under planning law – unless it's a platform not more the 300mm high (decked area) or is a Juliet balcony which has no platform. Always obtain planning permission, or written confirmation that you don't need it before you start work. Failure to obtaining planning permission before starting works or deviating from plans approved for planning purposes could find yourself having to reverse the works, face a fine, or possibly both. Further guidance on permitted development rights and balconies can be found via this Government article: 
'Permitted development rights for householders: technical guidance'
Juliet balconies 
Named after a scene in the Shakespeare play Romeo and Juliet, these tend to be a large inward opening window or set of doors, or sliding patio doors, with a barrier that is fixed immediately to the outside wall, or between the window or door reveals to prevent people falling out.
Cantilever, hung, and bolt-on balconies
As the name describes, the balcony protrudes out from the building  appearing to hang in the air and to be a continuation of the floor of the building, where the joists or frame extend out beyond the building line. 
Stacked balconies
These are supported both by connections to the building and also from posts or pillars that are fixed below them, providing support from the ground or another structure.
Rooflight balconies / Cabrio balcony.
These have become popular in loft conversion projects. The rooflights are designed as a window – in the closed position – but when opened they create a glazed canopy and barrier in one.
They can be installed as an individual rooflight or in a bank to create a larger window and balcony.
Roof terrace
created where an adjoining structure is used to create an outdoor space, accessible from a bedroom or upper floor space. For example, the flat roof of a ground floor extension, porch, or garage.
Don't install fire pits /  barbeques on a balcony – unless the balcony and surrounding structure/barriers have been specifically designed to resist  fire from burning coals. Don't leave any burning materials unattended. Smoking materials are a cause of accidental fires and should be disposed of safely. 
Be careful in bright sunlight – particularly on west-facing balconies. Wooden or plastic furniture may catch fire if a glass or similar object that could magnify the sunlight into an intense focused beam.
Don't leave burning candles unattended and make sure they are properly extinguished after use.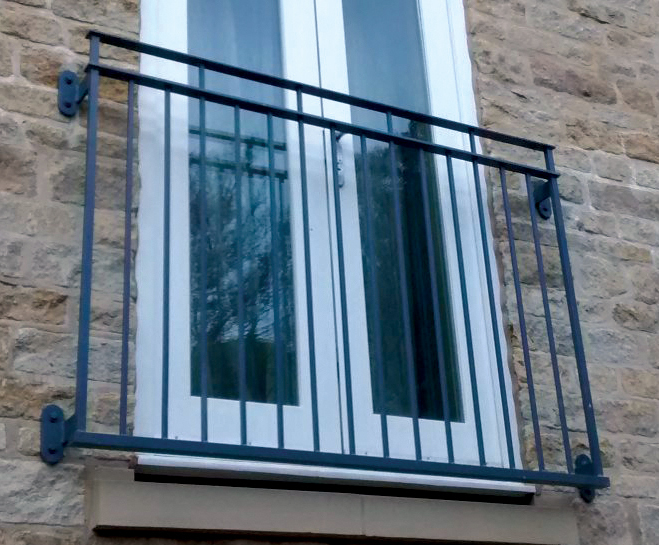 Don't use balconies for storage unless you know exactly what weight they can carry. 
Don't install a hot tub or other large item of heavy furniture unless the balcony and its supporting structure has been specifically designed for this.